Once Upon A Time...
DIRTY SKIRTY is a band who believes that rock n' roll in it's finest form is much harder to come by these days. Formed in 2007 by songwriter and vocalist Luke Stephens the boys of the band played many live shows in Florida while working on material for what was to one day become an album. The goal of the band was to follow their gut and play from their hearts. To combine the influences of bands such as AC/DC, Motley Crue, The Rolling Stones, Aerosmith, Lynyrd Skynyrd was not really a task at hand but more of a privilege that came quite naturally. Most original acts on the East coast of the U.S. either follow trends in an attempt to get signed or play cover shows. DIRTY SKIRTY did neither.

The band was originally a 5 piece act comprised of Luke Stephens (vocals), Scott Beasley (rhythm guitar), Jeff Allen (lead guitar), Evan Garnell (bass), and Shannon Stovall (drums). It is an understatement to say it's members did not play nicely with other musicians around town. Their general attitude of not kissing ass and playing zero politics did not bode well for networking. Over the course of the first year the band burned bridges with local radio stations and several bands in Tallahassee, FL due mostly to Stephens' quick lip and guitar player Jeff Allen's quick fist. However, their fan base would continuously grow as people began to talk about a band around town playing originals reminding them of the glory days of music long before the mp3 and DJ put their dents into the income of a hard rock musician.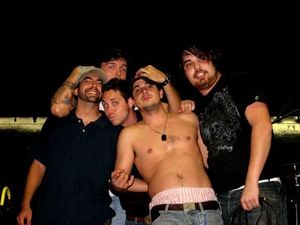 In late 2008 Greg Dombrosky replaced Stovall on the kit briefly for live shows and Scott Beasley left the band. Dombrosky moved to New York after a few gigs and was replaced by Eric Allen, who was only 15 years old at the time. The 4 piece composition of DIRTY SKIRTY found even more success than the original lineup in the Tallahassee live music scene. While Stephens originally played guitar for live shows it was when he dropped the axe that the band went from a steady rise to an explosion of energy that it is today. The power of drummer Eric Allen, showmanship of Evan Reed, blazing solos and strong backing vocals of Jeff Allen, and sexual strut of Luke Stephens left a stamp of authority at every stage they took. While playing many shows in 2008 and 2009 the band decided it was time to work on cutting a record to capture their unique and refreshing sound. DIRTY SKIRTY would finally be chronicled on a studio release.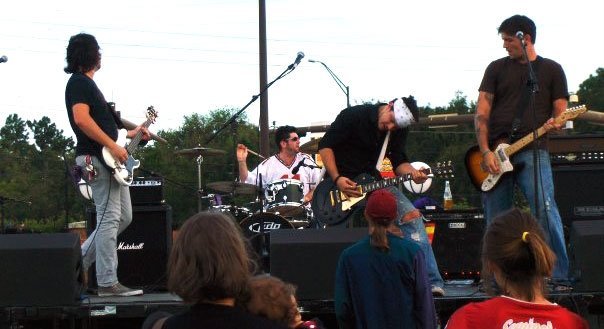 Between the time of March 2008 and October 2009 the band recorded the album "Long Live Rock N' Roll at Martell Studios in Kingsland, GA. Original member Scott Beasley contributed structuring and playing on the recording while Shannon Stovall played all of the drums. The album is a lyric for lyric and lick for lick sincere story of sex, cigarettes (Dirty Skirty is drug free), and rock n' roll. In April, 2010 the pressing of the album left the band feeling extremely pleased with what they achieved. For it's band members the disc not only live up to their childhood dreams, but it surpassed them. However, was the end near?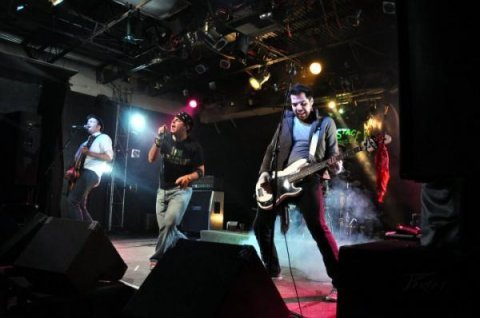 After a sold out album release party and farewell show at Big Daddy's in Tallahassee, Florida the band said their goodbyes. It was an epic end to hard work, dedication, and the combination of different personalities that made DIRTY SKIRTY thrive. A ride that their families both enjoyed and despised at the same time. Luke Stephens moved 6 hours south, Beasley 3 hours East, Evan Garnell to Canada. Jeff Allen and Luke Stephens would go on to play unplugged shows in their respective domains while Garnell dabbled in another band. That was before a fan told a rock website about how much he liked the album....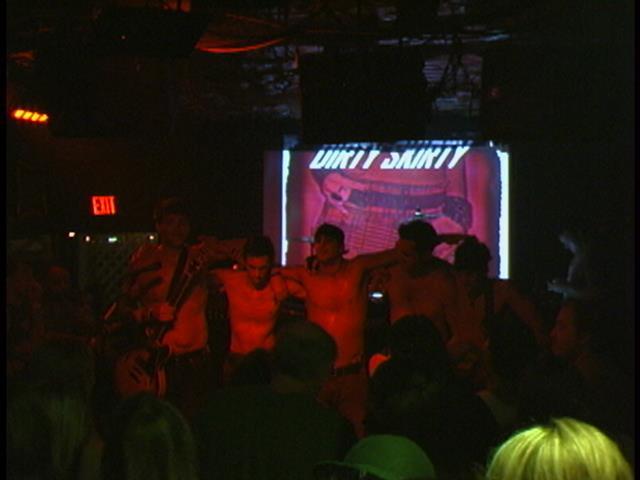 In August of 2010 the website sleazeroxx.com reviewed the album giving them rave reviews What was once the end of a journey turned out to just be the closing of a chapter. Album sales started to come in the dozens per day from around the globe thanks to the popularity of the website. For a period of time DIRTY SKIRTY would do over 150 units per week. What had originally been something the band felt was a great local accomplishment turned into global positive recognition. More reviews and interviews would follow and Long Live Rock N' Roll would go onto to be the #6 rock album in all of 2010.

In January 2012, DIRTY SKIRTY played a reunion show and once again they sold out the venue. After that show Stephens decided that it was time to work on a follow-up album. Initially the band was slated to go into the studio with original guitar player Jeff Allen, bassist Evan Garnell, Stephens on vocals, and Shannon Stovall on drums. However, a dreadful reincarnation of Saliva took over their studio dates. By the time Stephens was ready to roll Jeff Allen wasn't available for the follow-up. Stephens turned to studio maestro Stan Martell to play guitar and the work on their next album was underway. The band consisted of Stephens on vocals, Martell on guitar, Evan Garnell on bass, and Shannon Stovall on drums.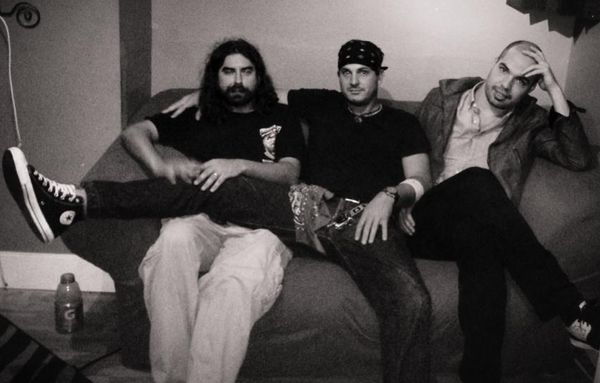 Dirty Skirty finished up there 2nd full length album in late 2013. After  years writing, fighting, and getting inspiration by the local dancing girls, Dirty Skirty had another set of tunes that they hoped would keep their fans around the globe's toes tappin' and heads bobbing. 

With titles such as, "Devil Dancer," "My Way or The Highway," & "Candy Land", you can get a grasp that this album stays true to their roots and vision, a balls to the wall, good time. After toying with the idea of calling their record "Sinning Is Winning" and not being excited about any of the track titles standing for a feel of the tunes as a whole DIRTY SKIRTY went with a simple word which means a lot.... REBEL. "Rebel" was released April 6, 2014.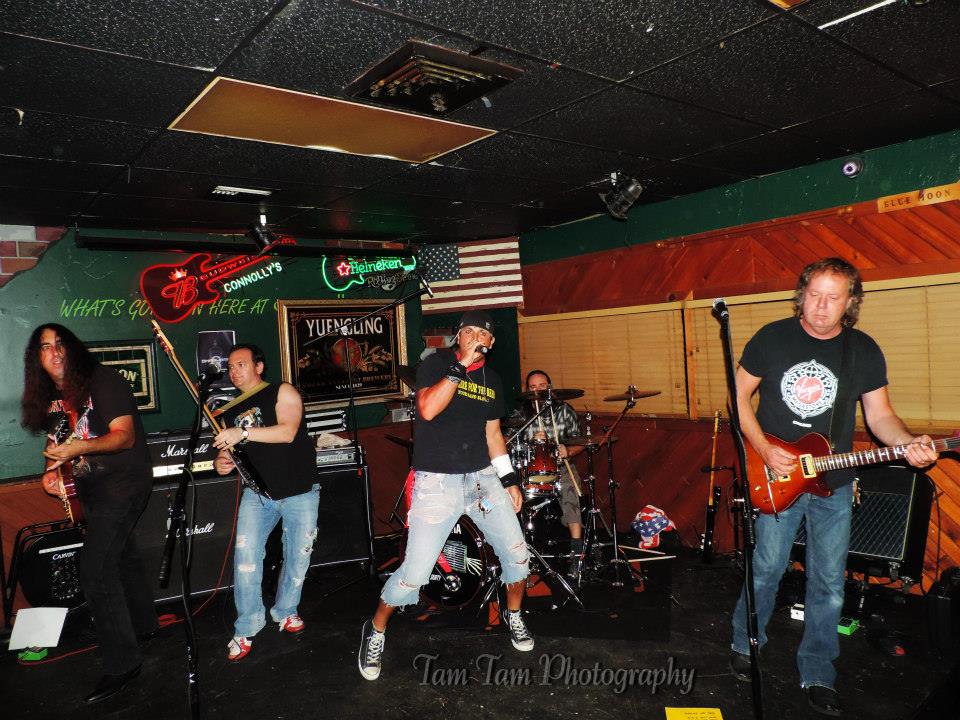 After rave reviews from the album, Stephens realized the music needed band members who weren't spread out across Florida and into Canada. Through Craigslist Stephens auditioned several musicians and found the kind of guys who give the whole catalogue of Dirty Skirty new life. Dueling lead guitarists Kenny Baker and Carson Wayne joined Stephens as well as drummer Tim Vaughn and bassist Jeremy Slusher. The reincarnation of the band gigged in South Florida and built the animal that once stalked the streets of Tallahassee.

2014 turned out to be a pleasant year of surprises for the boys of Dirty Skirty. The band that essentially sat dormant for a solid 3 years (aside from bi yearly reunion gig) is back in the ring playing rigs and making noise around the South Florida music scene. In April of that year they released their sophomore album, REBEL, to the masses of the world. Thanks to adding iTunes and Spotify to the mix of distributing the albums the band outsold their successful LONG LIVE ROCK N' ROLL record.

Shortly after seeing the independent success of Rebel, front-man Luke Stephens knew what had to happen next; a live band. While mainstays Stovall, Stephens, and Garnell had recorded on every song for Dirty Skirty, the geographical location of the 3 limited their live ability. The new members have brought new life and flavor to the band and the reunions have now become a very strong union. Says guitar play Carson Wayne, "the scene here has long awaited a great original rock band and that is why we need to do it. I have been in this scene forever and these songs are flat out better than anything here in a while." Wayne and fellow guitar player Kenny Baker give the band the dueling live guitar sound that Dirty Skirty has always needed to make the most out of their live performances.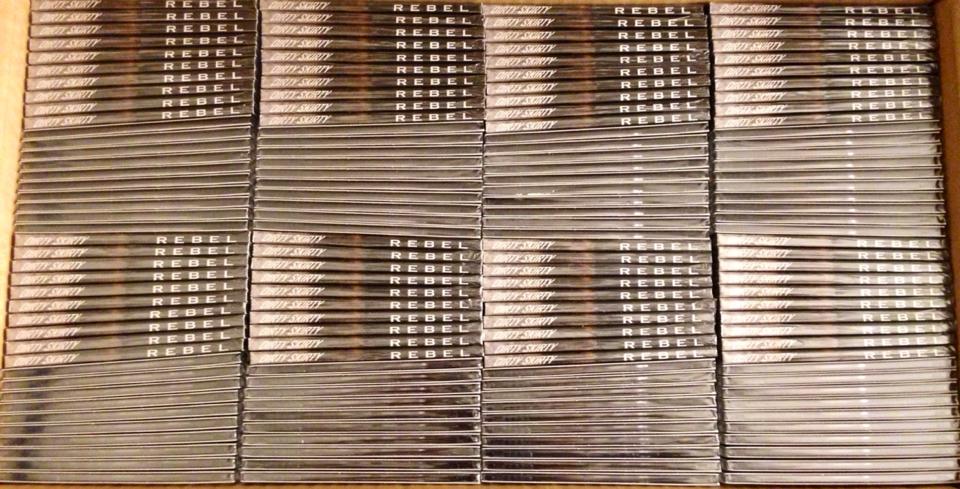 While most "local bands" are either playing covers, reggae, or punk DIRTY SKIRTY sticks to their guns and gives rock the right to breath new life. "I'm not in this to fuck around. We are gonna do this big and do this for the long run." -Kenny Baker, guitar.

Bassist Cezar Pentzke joined the band in the summer of 2015, replacing Slusher. He brings a ton of touring experience to DIRTY SKIRTY and the ability to add a great amount of energy to the band's live show. They have become a bit more selective with their live shows. They played a headlining slot for Melbourne's "80s In The Park" along with the likes of Slaughter, Lita Ford, and Autograph. A few months later the band played their biggest show yet in direct support of Quiet Riot in Cape Coral they played in front of over 3,000 people.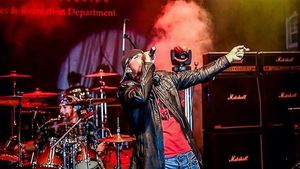 The band played another big gig in 2016 as direct support for Buckcherry. DIRTY SKIRTY ignited the sold out crowd with their gritty rock flavor. Later in 2016 the band once again played 80s In The Park. This time the band had a new toy....errr member. Christian McClure just 19 years old played for the band for the first time under festival lights taking over for guitar player Kenny Baker. He plays better than he looks...and he looks great, said singer Luke Stephens.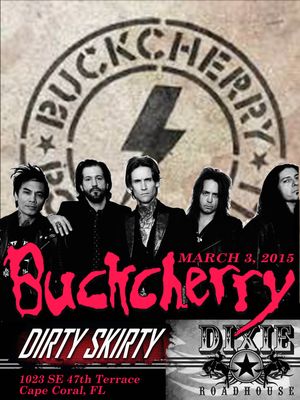 DIRTY SKIRTY released the single "Rock N' Roll Leader in early 2018.The band would play 80s In The Park twice in that same year as well as Rockfest 80s for the first time in Miramar, FL. Original guitar player Jeff Allen joined the band at their first go-round for 80s In The Park 2018. The band continues to play big festivals when it can and take their time writing more material for their eventual 3rd album.